Popular Posts
Feel free to share! Tweet

Tweet   These are all questions about trying to conceive posed in the last 2-3 days .  I did not edit them at all.  I didn't w...

On 1/3/12, I received a 10,000 mIU/ml shot of HCG, the same hormone that a pregnancy test is designed to test for.  It's purpose is to ...

There is a phenomenon that, unless you have had a miscarriage or deal with infertility, you will never be aware of. A woman can go years an...

Blog Archive

About Me
God has blessed me tremendously with an amazing husband, Doug, and two gorgeous little boys, Gavin and Joey. It has always been a dream of mine to have a large family but God may have other plans. I had a series of 6 consecutive early miscarriages when trying for baby #2. We are currently trying for baby #3 after our 7th miscarriage. I am faithful that God's plan is perfect, even when I am not happy about it. I love comments and meeting new followers so please don't be shy!
View my complete profile


Wednesday, December 21, 2011
Today on my While I Wait list I get to show some love to some of my favorite bloggers! I have chosen some of my blogging friends who are trying to conceive and I am thrilled to be following their journey.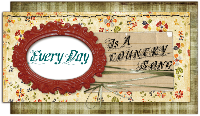 I am sure that I have shared this one before but Maria at
Every Day is a Country Song
has such a fun blog to read. Every post warms the heart, tugs at a tear, and makes me like her just that much more. She might be a bit of a crazy cat lady but I would have it any other way!
Megan at
My Life as a Minister's Wife
is another fantastic blog to read. She has suffered losses, but has the faith of an army as she continues to try for her first baby. Just this week, she wrote
an amazing post
that really spoke to me and I think you will like it too!
At
Our Journey for a Baby
, she is often a woman of few words. Interestingly enough, the words that she finds of value enough to share are valuable beyond words. Ironic? I think not.
There are so many of you but instead of listing you all I will share more in my next TWW... if there is one. I am still hanging around in Limboland unsure if the line on today's test is still from a trigger or if it is a real, honest to goodness, pregnancy. Feeling kind of crampy and completely unsure.
To Be Continued...