Popular Posts
Feel free to share! Tweet

Tweet   These are all questions about trying to conceive posed in the last 2-3 days .  I did not edit them at all.  I didn't w...

On 1/3/12, I received a 10,000 mIU/ml shot of HCG, the same hormone that a pregnancy test is designed to test for.  It's purpose is to ...

There is a phenomenon that, unless you have had a miscarriage or deal with infertility, you will never be aware of. A woman can go years an...

Blog Archive

About Me
God has blessed me tremendously with an amazing husband, Doug, and two gorgeous little boys, Gavin and Joey. It has always been a dream of mine to have a large family but God may have other plans. I had a series of 6 consecutive early miscarriages when trying for baby #2. We are currently trying for baby #3 after our 7th miscarriage. I am faithful that God's plan is perfect, even when I am not happy about it. I love comments and meeting new followers so please don't be shy!
View my complete profile


Wednesday, December 14, 2011
Welcome to Give Love On Christmas Day Charity Giveaway!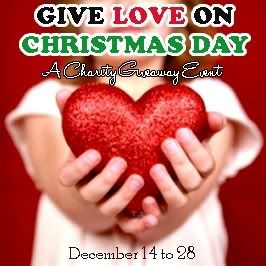 This giveaway is hosted by Alice of
Bay Area Mommy
and Christine of
Life's Cheap Thrills.
Half of the funds collected for this giveaway will go to the funds of Shekinah Christian Church in Manila, Philippines as they hold a
feeding program for kids
in the slum area this holiday season. The other half will go to this giveaway's cash prize. If you don't want to enter the giveaway but do want to donate please
go here
and help out! She has already met her goal of $100 dollars but let lets blow that goal out of the water!
Prizes up for grabs are:
$120 PAYPAL CASH (open WorldWide)
If the 1st winner drawn by Rafflecopter resides within the 48 contiguous states, he/she will get the $120 Paypal cash AND his/her choice between the Fashionista package or the Fit package . If he/she resides outside the 48 contiguous states, he/she will only be eligible for the Paypal cash prize since our sponsors do not ship outside the US.
A 2nd winner will be drawn and will get the other package that the 1st winner did not choose. If the 1st winner resides outside the US, the 2nd winner will get to choose between the Fashionista package and the Fit package. A 3rd winner will then be drawn and will get the package the 2nd winner did not choose.
Giveaway will be open from December 14 12:00AM EST to December 28 11:59PM EST. An email notification will be sent to the winner/s on December 29th. The winner/s will then have 48 hours to respond, otherwise, a new winner will need to be drawn.
Click HERE
to add all the Google+/GFC pages to your circle.
a Rafflecopter giveaway