Popular Posts
Feel free to share! Tweet

Tweet   These are all questions about trying to conceive posed in the last 2-3 days .  I did not edit them at all.  I didn't w...

On 1/3/12, I received a 10,000 mIU/ml shot of HCG, the same hormone that a pregnancy test is designed to test for.  It's purpose is to ...

There is a phenomenon that, unless you have had a miscarriage or deal with infertility, you will never be aware of. A woman can go years an...

Blog Archive

About Me
God has blessed me tremendously with an amazing husband, Doug, and two gorgeous little boys, Gavin and Joey. It has always been a dream of mine to have a large family but God may have other plans. I had a series of 6 consecutive early miscarriages when trying for baby #2. We are currently trying for baby #3 after our 7th miscarriage. I am faithful that God's plan is perfect, even when I am not happy about it. I love comments and meeting new followers so please don't be shy!
View my complete profile


Thursday, May 16, 2013
3:28 PM | Posted by Maria |
|
Edit Post
What a wild week!! A quick recap involves what feels like panic attacks, 3 massive nose bleeds and a bad back. Yes. It was good times here at my house.
The back ache was quickly resolved after some chiropractic care. If any of you are on the fence about whether or not seeing a chiropractor during pregnancy is a good idea, mark me down for a big fat YES!! I went from having incredibly painful back spasms to being able to sit and stand without first mapping out my plan of attack. I feel sooo much better!!
I had an OB appointment today and mentioned my crazy panicky issues and gushing nose bleeds. Turns out, our good pal progesterone is responsible for both and that he isn't concerned about either issue. Since he isn't worried, neither am I. Fair warning though, if you live locally and see me with 8 pounds of tissues crammed in my nose with an ice pack and trying to catch my breath while monitoring my pulse, don't worry. I am just pregnant.
The very best part of today was that I got to take a tour of the birth center at the hospital. It was a quick tour as there wasn't much to see but I think I am in love. The rooms (labor, delivery, postpartum, and rooming in with baby) are large and spacious. Floors are shiny hardwood and really looks homey compared to the "regular" hospital I am familiar with. The bathroom is also nice and big and has nice big showers with a real shower curtain and shower stall! I know this probably isn't big news to most of you but based on my prior experience, the showers were in the bathroom with no real separation between the toilet and the shower. There was a curtain so that the whole room didn't get wet but the floor was all just sloped toward the drain. But wait!!! Aside from the TV/s equipt with DVD players, each room has a mini fridge! I know I mentioned this before but after I deliver the baby, they remove the delivery bed from the room and a queen sized Murphy bed pulls down from the wall et viola! Comfort!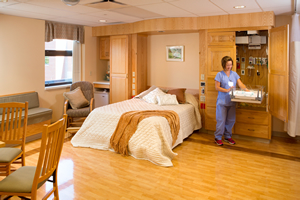 The best part is the birth tubs! I envisioned an inflatable tub that resembled an inner tube crossed with a black trash bag. These tubs that I saw were REAL bath tubs! Big! Deep! They looked so comfy! I originally thought that maybe I would labor in the tub, but after seeing those bad boys, I might be willing to deliver in it too! The tubs has lights for crying out loud! Lights!
Then as we returned to the hallway I noticed that the halls were carpeted and far from looking hospital-ish. They don't have a nursery but she said that if I want to sleep, they will take the baby for a while and bring the baby to me for feeding. As I realized how quiet everything was, I had to ask her how many babies they deliver in a month. Her answer was, "About 30." One baby a day on average. I think that is just amazing! Talk about getting all the attention I could possibly need! This place just might be heaven for delivering babies.
I can't tell you how excited I am about delivering at this place. Four more months. That is it!