Popular Posts
Feel free to share! Tweet

Tweet   These are all questions about trying to conceive posed in the last 2-3 days .  I did not edit them at all.  I didn't w...

On 1/3/12, I received a 10,000 mIU/ml shot of HCG, the same hormone that a pregnancy test is designed to test for.  It's purpose is to ...

There is a phenomenon that, unless you have had a miscarriage or deal with infertility, you will never be aware of. A woman can go years an...

Blog Archive

About Me
God has blessed me tremendously with an amazing husband, Doug, and two gorgeous little boys, Gavin and Joey. It has always been a dream of mine to have a large family but God may have other plans. I had a series of 6 consecutive early miscarriages when trying for baby #2. We are currently trying for baby #3 after our 7th miscarriage. I am faithful that God's plan is perfect, even when I am not happy about it. I love comments and meeting new followers so please don't be shy!
View my complete profile


Monday, July 2, 2012
9:33 PM | Posted by Maria |
|
Edit Post
While this cycle is most likely going to end the way the last 24 have, I am okay. I am so excited to finally be doing something about my weight. I am as guilty as the next obese girl when it comes to wanting to deal with my weight later. But, hey, it is no secret that infertility is telling me that I need to be patient on the baby front so, why not dive right into living healthier! That, I need no patience for. It is something that I have control over. I can make this happen.
I am going to share my weight loss "a-ha" moments I have had this week.

1) My Coke addiction was a real problem. I would have a 20 ounce Coke most every day. Some days that number could be doubled... and some days... trippled. At 240 calories each, those little bottles of heaven were adding up to a meals worth of calories! They had to go. *sniff* Hello, Diet Coke!
2) Eating salad sounds really healthy when dieting. But, the only way to do it is to add flavor with lots of various veggies (I love Dole Veggie Lover's mix) and pass on the cheese. Dressing isn't terrible if you can manage to not drown your leafy greens in creamy calories. Two tablespoons is sufficient for a big salad as long as you actually like the taste of veggies!
3) Bread (aside from the fact of having gluten and being a no-no anyway) is adding a ton of calories when most of the time, we use bread as a way to lift sandwiches to out mouths. It might be a little messier, but I ate a BLT with no bread. After all, it isn't called a BLT with 2 slices of B. I ate it with a knife and fork and even used a dab of mayo. It was yummy! Being creative has been kind of fun!
4) Fast food is killer. No matter what you order it ain't pretty when you go to see how many calories you just consumed. I won't lie. I love french fries. I splurged one day and got a small order from Wendy's. I ate 'em up and when I put them into my calorie counter and saw a whopping 350 calories staring back at me I nearly tossed them up! To burn off those fries I would need to be on my treadmill for over an hour at 3 miles per hour. For fries! Not even for a juicy burger with mayo! And salad from a fast food establishment might make you feel better about eating out but the truth is, calorie wise, sometimes you are better off with a cheeseburger (and sometimes even FRIES!) If you can't say no to that clown with the stripped leggings, it is okay. You just have to be prepared to sweat it double time that day.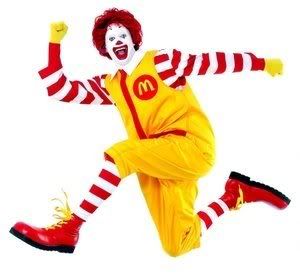 5) Desserts aren't bad! Well... they are but I have changed my thinking. When I want something sweet I have to stop turning to cookies and ice cream. Finding a sweet treat that won't kill you with calories is so important. Cherries have been awesome this year!
Today I spent some time reading about infertility and obesity. If being in better health isn't motivating enough, then increasing my odds of pregnancy will tip the motivational scale. Then, just to further inspire me to keep working, I looked up miscarriage and obesity. Increasing my odds of keeping that baby? Worth every sweaty sport bra I own. I'll post more about what I learned on this soon and maybe I will get brave enough to post a before picture.
Anyone on
My Fitness Pal
? I would love some more motivation and be able to return the favor! Clicking on the link will take you to my profile page.