Popular Posts
Feel free to share! Tweet

Tweet   These are all questions about trying to conceive posed in the last 2-3 days .  I did not edit them at all.  I didn't w...

On 1/3/12, I received a 10,000 mIU/ml shot of HCG, the same hormone that a pregnancy test is designed to test for.  It's purpose is to ...

There is a phenomenon that, unless you have had a miscarriage or deal with infertility, you will never be aware of. A woman can go years an...

Blog Archive

About Me
God has blessed me tremendously with an amazing husband, Doug, and two gorgeous little boys, Gavin and Joey. It has always been a dream of mine to have a large family but God may have other plans. I had a series of 6 consecutive early miscarriages when trying for baby #2. We are currently trying for baby #3 after our 7th miscarriage. I am faithful that God's plan is perfect, even when I am not happy about it. I love comments and meeting new followers so please don't be shy!
View my complete profile


Wednesday, July 13, 2011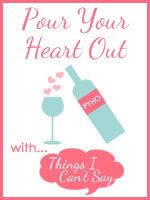 Blame it on hormones. Blame it on just being a girl. Blame it on the fact that I am a big ol' cry baby from a long line of big 'ol cry babies. But, I have just been on the verge of tears for about a week now. Last night, as I was just doing a bit of catching up on facebook, I happened to notice on my side bar a friend suggestion. It was of a friend from high school who, while we never connected on facebook, I would consider a friend. Not that I need to justify but I was a very shy girl in school and, while most people that know me now would find this next to impossible to believe, I was as timid as they come 20 years ago. On facebook, for whatever reason, when it comes to my former classmates, I revert back to my introverted, timid, and painfully shy former self. So, it is rare for me to actually do the friend request. Maybe just still afraid of rejection. I digress.
Several months ago I had received word through the facebook grapevine that Lisa was losing her battle with cancer and probably wouldn't make it much longer. I didn't even know that she had cancer. It all sort of came as a shock as she isn't the "type" if there is one that would get suddenly stricken with a incurable disease which would swoop in, and take her life. Then, a week or so later her sister sent out to all of her friends that was passed on to me through a mutual friend. Lisa had passed away. It tears me up to even think about that letter. To hear that she had 3 young children just seems to be that much more gut wrenching. The youngest is close to the same age as my Gavin. I couldn't fathom saying goodbye to my children. Not just for a childless lunch with a friend. Not just a short vacation with Doug. But a goodbye forever. Just breaks my heart to think about it.
What I find to be the most touching was how her sister described that she had a unshakable faith in God. That she made her peace with God and was ready to meet Him. I cant help but cry as I type those words. Here I am frustrated about not getting pregnant with baby number three. I wonder why some oversexed, unwed, teenager gets to feel a baby kicking her and I am trying to remember what it felt like when Joey kicked my from the inside. Then, I wonder if that distant memory will be the last time I will have that feeling. In the grand scheme of things, I have been so very blessed. It really puts things into perspective. If the worst thing in my life is dealing with infertility and miscarriages... well... I'll take it. If that is what God has in store for me then there is good in all of it.
I am sure my friend's life had a huge impact on all that she knew. But, maybe just a teeny tiny part of His plan for her was so that I sat here today, with a tear stained face and got these words out into the world. Maybe one of you reading this will take a moment to re-evaluate how there is good in everything no matter how hard you cry. No matter how much it hurts. No matter how angry it makes you. God's plan is complex, complicated, but absolutely perfect. If my friend could see this then I should too.
Thank you, God, for the years that you shared Lisa with us. Without her saying a word to me since my last days of high school, she changed my life forever. Thank you for putting her in your plan for me. I pray that her faith serves as a continued inspiration for myself and inspires others to seek You out, especially when we are feeling cheated out of our worldly wishes. Please continue to guide me toward Your will, and lend me strength and patience when I run short. Amen.
Tweet